by Guest Blogger RobG and photos by TessG on their visit to Tagaytay
Thanks Rob & Tess.

Antonio's recently came to international fame when it was listed as one of the the
Miele Guide
as one of the Top 10 Restaurants in Asia.
Antonio's turns out is an extension of owner/chef's Antonio Montilla's country home in Tagaytay, a rural province known for its cool climate due to higher altitude, more or less an hour or so away from Manila.
Its pretty much what one would call the local version of French Laundry in terms of similarity to the farm-to-restaurant format. The Owner and Chef - Antonio was once a flight attendant for PAL who turned his knack of entertaining guests and interest in culinary arts into his chosen calling.
The interior of the place can be called pseudo Spaniard with Philippine touch.
Place seated 60 before but has now expanded quite a bit while still retaining cozy ambiance. Meals are served like fine dining restaurants with waiters clad in all white and well versed in serving with professional flourish usually reserved for high end hotels. They have two settings. 7am to 4pm daily is their breakfast/lunch setting which is what we had. 7pm onwards till 11pm is their finer dining setting which allows only reservations and no walk-in patrons. The cool air, the rustic interior plus the fantastic cuisine all combine to make dining at Antonio's a trip to remember, resulting in gustatory and sensory overload.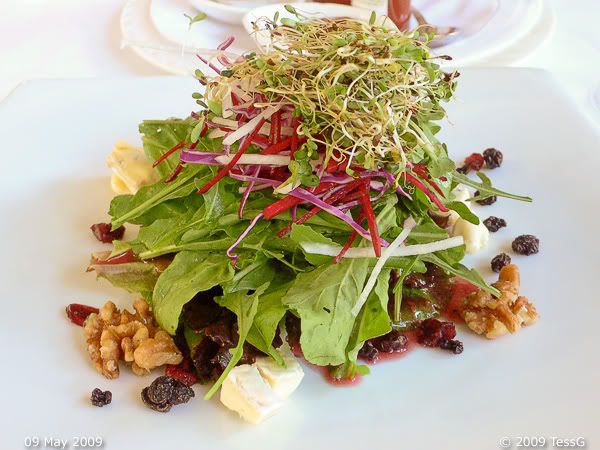 Mesclun salad = glazed walnuts, dried currants, dried cranberries, blu d' avergne crumble, dark raspberry vinaigrette. Can't identify what veggies were used but all are certified organic as supposed to be from his own garden in the back...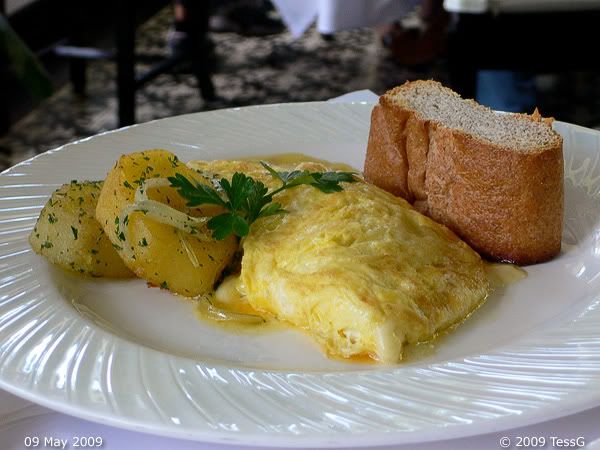 Quattro Formaggi is one's usual omelette, in this case though there only a touch of of salt as aftertaste. The wheat bread accompanying the omelette was toasted just right with the 4 cheeses, gruyere/blue/cheddar/mozzarella in just right with the organic eggs used. The eggs' flavor or lack thereof all come together with the 4 cheeses to give it a distinctly healthy aroma. I have to add that the wheat bread was toasted to perfection giving it just the right snap when teeth sank into it...
The rancher's egg was pretty much just a tossup of something resembling a tomato based puree of goat cheese, olives with an over-easy scrambled egg left on top.
The House Burger came with potato chips which curiously was supposed to be eaten with this mayonnaise and jelly. Meat was cooked medium well, easily around 12 oz of lean meat. Not juicy at all but due to good cooking, meat still came out tender.

Antonio's Restaurant, Tagaytay
Bgy. Neogan
Tagaytay City, Cavite
(0918) 899-2866

Photonotes: All photos by TessG with Panasonic Lumix DMS LX1.