with colleagues, featuring photography by Maggie Teo.
Fried Hokkien Prawn Mee (HKM) is one of the favourite dishes in Singapore. Noodles, usually two types - white, round rice noodles, and traditional Chinese yellow kee noodles are fried, sometimes double fried, with seafood ingredients like sliced squid, prawns and lard to create a magnificent plate, perhaps unique to Singapore.
As mentioned in my Kim's Hokkien Mee post, a few makan fanatics in my office are crazy over HKM so we continue to seek out new experiences, and re-enjoy old ones. The makan blog run by Dr. Leslie Tay (http://ieatishootipost.sg) and its Forum provided some suggestions for us to begin our quest.
This HKM was a bit more watery than the super thick gravy dished out by
Kim's.
Less richly laden with cholesterol, but still remanding quite tasty. The fire was quite powerful, imparting a nice
wok hei
which is evident in the tiny bits that ever so slightly charred. The dish was obviously fried with pork lard, which is the oil of choice for discerning chefs all over...the animal fat blesses the noodles with a distinct, delicious flavour not found if the same is fried with vegetable fat. This kind of subtle flavour, is like
ganja
(Malay for opium) and is addictive. So are the bits of crispy pork lard which is sprinkled over the HKM.
For me, this was excellent HKM, but not in my book for top 3. The prawns were a bit bland and tasteless. It lacks crunch, and bite, and this tells me that they were not fresh enough.
As the same coffee shop is also famous for its Hainanese Curry Rice, we also ordered a plate of crispy deep fried pork and crispy deep fried prawns.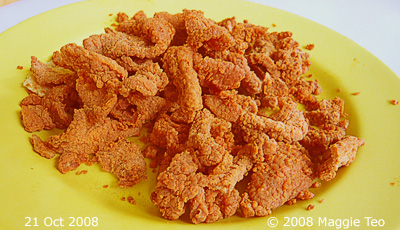 The pork was indeed superb. Crispy...yes, each piece is fried till golden crispy. The taste was fantastic, and crushing each piece between the teeth releases a wonderful aroma and taste. Not cheap, this pork, a small plate was $4.
The prawn was lack-lustre.
OK in texture...the same crispy outer covering, but the prawns lack crunch, sea fragrance, and sweetness.
We also proceeded to Meng Kee Char Kway Teow in the next block (Block 22, Beo Crescent) for a plate of wet, sweetish CKT...very well done by the uncle...who also does a mean Carrot Cake for breakfast. Great
wok hei
, strong flavour, good taste. Nice CKT. Sorry forget to take photos...
Yang Zhou Fried Hokkien Mee
Blk 40 Lower Delta #01-16
Beo Crescent
Photonote: Pictures were taken by my colleague Maggie Teo with the Panasonic DMC FX55 used in my Brown Sugar post. Maggie is a budding photographer, with a keen interest to learn more about photography than most.

Shot this time in full resolution, except for the deep fried crispy pork, which for some reason was shot only in 600X400 original. No flash, colour balance reset using grey dropper in Photoshop CS3, and slightly sharpened.