with office colleagues
Whampoa Hawker Center is a formidable foodie hangout. During the renovation works, the stalls existed as the Temporary Whampoa Hawker Center, and now the new fangled Hawker Center is complete. The new generation Hawker Centers are all high ceiling, which allows plenty of ventilation, and gone are the days of stuffy food centers.
ieatishootipost.sg
has 3 entries on the Temporary Market, and we attempted to eat at 2 of them - Ah Hock Oyster Omelette and Ruby Popiah. When we arrived about 12:45pm, Ruby was not ready yet, so we settled with just Ah Hock's Ohr Neng - a variety of the famous Hokkien dish of Ohr Chien (fried oyster...typically an omlette with oysters held together with tapioca flour). The Ohr Neng (oyster egg) is fried without the gooey flour. And one gets to taste the original taste of the oysters, flavoured only with eggs.
The plate was a beautiful sight. Eggs and oysters...sometimes the simple things taste best. Omelette on its own, when fried well is intriguing and is a taste sensation by itself. Add succulent oysters, and the dish transforms itself to greater heights.
The oysters, imported from Korea, no less were not super huge, but they were very fresh, succulent, and had a marvellous flavour. I am sure my own family doctor would caution against this dish, though my good friend Dr. Mycroft may heartily recommend it, though I think he is not a big fan of oysters...delicious and shiok as it may be, as both eggs, lard used to fry and oysters are high in cholesterol.
The sharp, tart, tangy, and pungent chilli provides counterpoint to the rich dish. Lovely.
Instead of eating at the famous Singapore Fried Hokkien Mee, we decided to try out the less famous, but reportedly better tasting version dished out by Qin Li, just down the corridor.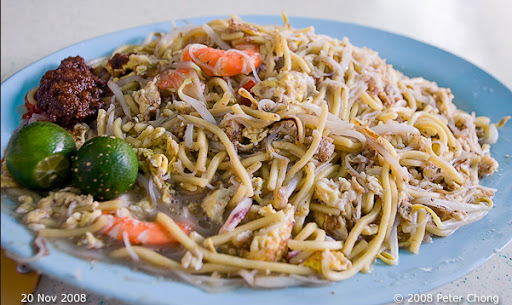 This Fried Hokkien Mee was quite well done. The stock used to fry the noodles was quite rich, and provided some starchiness to the thick gravy. The prawns were ok in freshness - no crunch, and no sea fragrance. The chilli was also quite punchy but not extraordinary. For me, I will rate this below
Kim's
and the rather unique dry example fried by
Golden Mile.
But perhaps on par with the one in
Beo Crescent.
We also ordered some fish soup from a rather famous store.
This came in a rather large steampot. We ordered the fish sliced version, though they also serve the fish head one. The same store also cooks up a mean cze char, but we did not try that on this occassion.
Rather large chunks of fish was cooked in the rich broth, along with vegetables. The stock for the broth was probably done with fish bones, deep fried ikan bilis, and seafood. The broth tasted very well..robust, seafood flavours permeate. The fish was reasonably fresh, and very tasty.

Ah Hock Oyster Omlette
Qin Li Fried Hokkien Mee
Whampoa Hawker Center
90 Whampoa Drive