This may come as a surprise to you, but today, just like almost every other day, we had lunch. And this time, we had it in Crystal Jade, Great World City, Singapore, Asia, Earth. As usual, it was full and there was a queue, lucky for us, the queue was not too long and we only had to wait 15 minutes. We didn't really mind the wait that much as this was one of our favourite restaurants and we visit it very often.
After the wait, we entered the restaurant and sat down at a table in a corner. We began ordering our usual stuff but only to have it returned to us as we were later than usual and most of the items sold out.
First came the Preserved Egg with Meat Congee. It was good.
I espcially liked the
you tiao
. Crunchy, crisp smothered by the creamy like congee. This also was counterpoint to the slightly salty lean meat burried deep within.
Next came the roast pork, my grandma's favourite.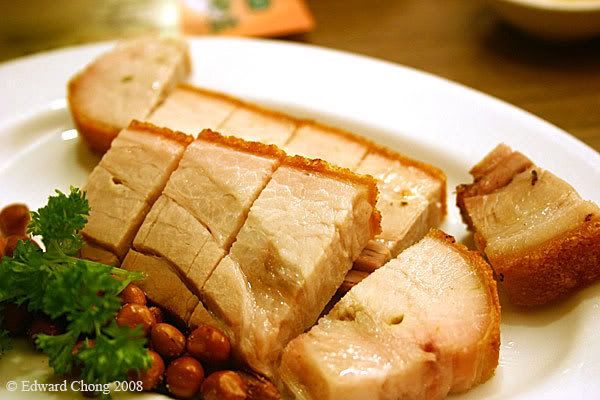 See that strip in the middle of the meat? Thats fat, not as a layer, but marbelled within the meat. Awesome! Juicy!
The crust was very crispy and adds to the overall pleasure when consuming this dish.
As we ate the roasted meat, the Glutinous Rice Dumpling arrived.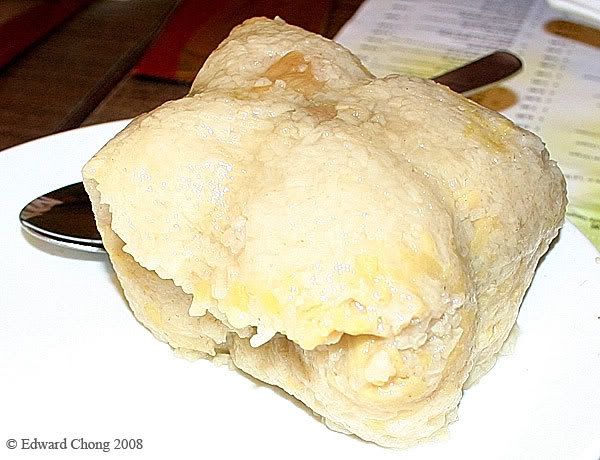 It contained salted egg yolk, dried scallops, roast pork, yam and yellow bean held in place by the glutinous rice.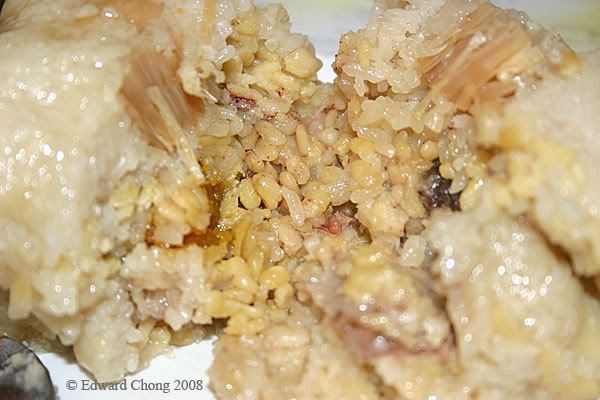 A plate of Deep Fried Beancurd Skin soon landed onto our table as the plates of some of the other dishes which we had finished took off.
There was a total of 6 halves available. Inside it contained shrimps that tasted fabulous.
The last to come was the Salad Prawn sprinkled with Sesame Seeds. The large shelled prawns were coated with mayonaise.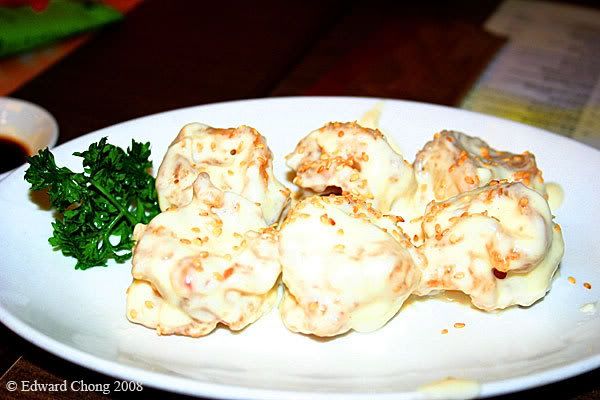 This photo is not that great. This is because the colour of the mayonaise was too similar to the colour of the plate hence fooling the camera's metering system, causing the picture to be overexposed. The prawns were very fresh, and had a firm, crunchy bite.
Crystal Jade Kitchen
1 Kim Seng Promenade
Great World City #03-30
Singapore 237994